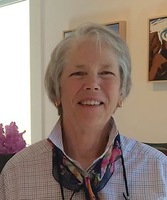 Suzanne takes long walks, searching for visual elements that excite her eye and mind. Her keen interest in color, shape and texture found in the New England landscape inform her vision. She is an avid knitter who enjoysthe varied textures in yarns, a former quilt artist who loves piecing disparate things together, and has a very large collection of beach stones and stones from other places and has collected sea glass for over 60 years. Suzanne is currently represented by Nantucket Looms, Nantucket, MA and Archipelago - The Island Institute in Rockland, Maine. She teaches workshops in Truro, MA, Nantucket, MA, Stowe, VT, and other US locations. She conducts workshops in her Guilford, CT studio, and is available for local and distance art mentoring, for individuals at any level.
Statement
For me, a painting becomes a work of art when something about it causes me - or the viewer - to stop in their tracks, to look and look and look again, without really knowing why. It could be a compelling color harmony or composition, strong shapes, familiar but unusual textures, or all of these and more, but always involves the formal elements.
I begin to paint in a state of not knowing where I am going, constantly asking "what if?". As a piece progresses, I aim for satisfying relationships between spontaneity and intentionality, freedom and
structure, chaos and rationality.