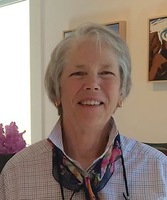 Suzanne takes long walks in places near the sea, searching for visual elements that excite her eye and mind. Her keen interest in distressed patinas found in rugged working harbors and surrounding environments, and textures in yarns, knitting patterns, and textiles, as well as her large collection of beach stones and sea glass, inform her vision. Suzanne is currently represented by Nantucket Looms, Nantucket, MA and Archipelago - The Island Institute in Rockland, Maine. She teaches workshops in Truro, MA, Nantucket, MA, Stowe, VT, and other US locations. She conducts workshops in her Guilford, CT studio, and is available for local and distance art mentoring, for individuals at any level.
Statement
I begin to paint in a state of not knowing where I am going, constantly asking "what if?". As a piece progresses, I aim for satisfying relationships between spontaneity and intentionality, freedom and
structure, chaos and rationality.